The best thing about the Fringe is that it is a rare time when people read critics with a view to seeing something that we recommend. So before I become too jaded and exhausted, I am going to throw out my top fives in anything I vaguely understand.
Dance is the first victim...
The Woman Who Wanted to be Funny (Curious Seed) @ Dance Base
Curious Seed tend to win Fringe awards, so get in on the ground level. Artistic director Christine Devaney is both witty and cerebral, and here she teams up with musician (as heard on Mogwai's last album) and writer (author of
Venus As A Boy)
Luke Sutherland
.
Finding the missing link between stand up and choreography,
The Woman
promises to be moving and thoughtful, but playful.
Born out of Sutherland and Devaney's continued improvisations - they were originally introduced by the NTS when
Venus As A Boy
was transformed into a play - it discovers that comedy is... oh, okay... no laughing matter.
Booking Dance Festival @ EICC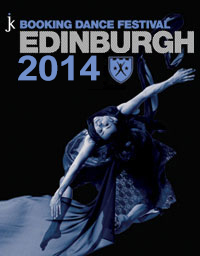 I have been banging on about this in The Skinny for the past three years: it is a compilation show of American companies, with everything from a spot of tap, a dash of ballroom to more experimental choreography.
A good one if you are not convinced by dance as a medium, as nothing last too long and the seats are comfortable. It's unlikely that every turn will hit the spot, but it usually ends in the amusing sight of audience members arguing over which piece won.
Special note: I am looking out for Hammerstep, who have a live bluegrass band and claim that they are integrating a variety of outsider dances to create a contemporary and relevant style. Plus, that's the most METAL name I have ever seen for a dance company...
bAnger (Tara Cheyenne) @ Dance Base
...except for perhaps this solo show. And that is because it is about metal. And being a young man trying to find a place in the world. It sums up what I love about dance - it can cover most things, and in a form that is funny and accessible. I couldn't think of anything worse than a monologue about being a metal fan, and how the world doesn't understand. Mix in some choreography, and it is top of my must-see list.
Flamenco Roots (Ricardo Garcia) @theSpace
I love it when critics get poetic about shows, trotting out cliches about how this show or that show will transport the audience from rain spattered Edinburgh to an underground bar in Madrid. Puts me fair off my paella. Still, Garcia is good at this stuff: his shows tend to be folkier and more intense, with a real sense that the dancers and musicians would be going for it even if the gig was in their bedroom.
His
website
gives a taster of his guitar picking style (nice and loose), and although I don't want to get into that critical nonsense, I do believe that a hour with the Flamenco Flow will probably cheer up another Edinburgh day of storm clouds.
Flashmob (Corrie McGuire) @ Assembly Hall
This is my wild card choice. Every year, the Fringe has one massive dance show. I reckon this is it... although it might be challenged by the one about
football
. Details to follow.