This is why internet searches during the Fringe are hopeless. I tap in "circus" and get a bunch of shows that have nothing to do with clowns or trapeze routines: I'll give Fourth Monkey's Nights at The Circus a pass because it is at least based on a novel about an aerialist, but when I want to see a man swinging from the ceiling or a clown entering the absurd, don't give me tap dance or burlesque. Besides, I might want to write about them later.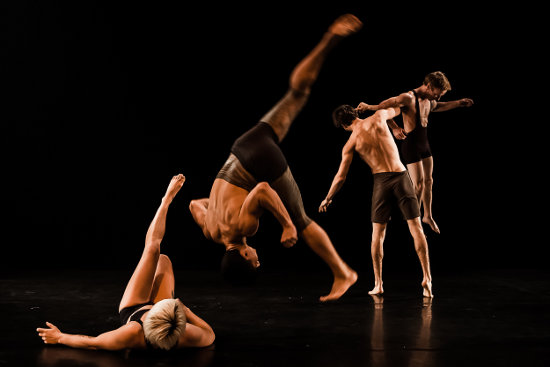 So it's hats off to Casus, who have former members of
C!RCA, Briefs Collective, Flying Fruit Fly Circus and Polytoxic. Their first show, Knee Deep, promises a subtle blend of the big tricks and human frailty, an attempt to bridge the gap between spectacle and intimacy.
I read one review that describes Knee Deep as a meditation on the universe itself - being no stranger to pretension, I was pleased to see another critic really go for it. The acrobatics, since they challenge and test the laws of physics, become symbolic of the human condition and the stage echoes the wider universe.
That's enough to get me along.
Spiegletent
,
Assembly
George Square,
2– 27 August.
Cirque Du Soleil, Dell' Arte School and The San Francisco Clown Conservatory. Their website has all these quotations from smart people about "simple matters" on it, suggesting that the comedy has a serious intent - the repeated comment that "people turn to clowns in times of uncertainty" confirms this.
Gilded Balloon Teviot, 1 -26 August





I've always assumed that the Europeans do circus better than the British (this is probably based on Cirque Du Soleil having a French name rather than research). I'll admit I get excited by the thought that Simple Matters stars a Russian clown - I imagine that the harshness of the Russian winter makes their clowns deadlier. Such stupid prejudice has generally done me well: and I have high hopes for

(remor), coming from Spain and promising a story of freedom inspired by cinematic thrillers.
It's also a damn short show, which means I can fit it in between hardcore Polish Live Art and psychedelic Brazilian comedy.
The audience (only twenty at a time) get to inhabit a custom built space and share the adventure of a couple as they try to work out how to escape. It's a thriller, it's a philosophical puzzle, it's an acrobatic theatrical mash-up and it's part of the "micro-theatre" movement, an attempt by artists to battle the cuts in art provision and funding.
Res de Res
is one of the pioneering companies in
circus
-theatre in Spain: (remor) showcases their skills on a small scale and in a quick show.
Still in Europe, and we have Circle of Eleven's Leo. Perhaps less driven by theatre than (remor), it is a one man spectacular, it mixes up projections and a war against the laws of gravity. This is a return gig for Leo, as it won all sorts of awards (from rival publications, so I won't mention them) last year: but it also deals in the tension between the artist's talent and the confines of the stage.
Circle of Eleven come from Berlin, and have been owning the Fringe for a few years: their trick is to link the advances in acrobatics in the last decade (the tricks are getting better), contemporary technology (which may account for the tricks...) and a classic vaudeville intention. In other words, they entertain and not just impress.
Hmm. That's only a top four. Any other Circus companies want a shout out? Contact me to fill this space...